Get them wagging with Cod Granola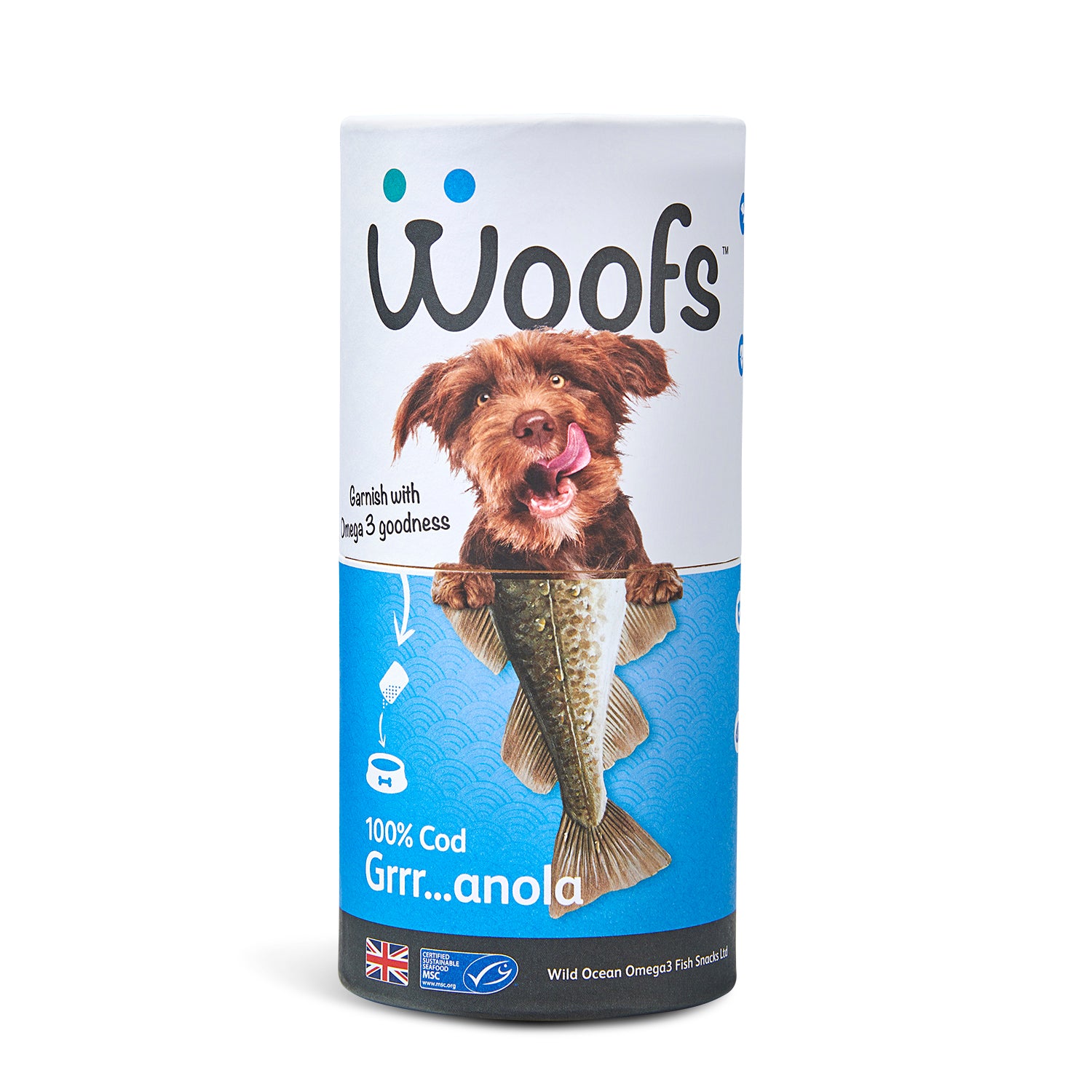 It's safe to say that tails are wagging uncontrollably at WOOFS HQ in light of our latest product launch! That's because we brought the entire shoal's heads together and came up with the perfect everyday treat for dogs. Introducing...
Two words you probably never saw coming together.
What's in it? 
We only ever use natural ingredients in
our products
. In this case, we used 100% MSC-certified cod. 
How did this idea come about? 
We set ourselves a mission of creating a product that would add a tasty twist to regular meals but also double up as a healthy training treat—and that's just what we did!
How should it be used?
We recommend sprinkling it over meals or using it as low calorie training treat. Most dogs can't get enough of fish and it's packed with health benefits!
What kind of health benefits?
Fish is naturally high in easily-digestible protein, vitamins and Omega–3 fatty acids, which can help to support:
Joint mobility
Vision
Brain function
Gut and gum health
A healthy coat and skin
Omega–3 cannot be created by the body, but it can be introduced as part of a rounded diet.
Additionally, it'll help to strengthen and stimulate a dog's immune system to quickly and effectively fight infections and reduce inflammation.
Can it also be used for training? 
Absolutely! It's no different to our other treats in that it's super low in calories, so works fantastically well for dogs looking maintain a healthy weight.
How did it end up being called "granola"?
The granola that we're all familiar with is commonly combined with other beneficial and complementary ingredients to create a well-rounded meal. This doggy version is no different and will also maintain its position as star of the show.
Where is the cod sourced?
We pride ourselves on our traceable, sustainable and natural fish products. Our cod is no different in that it's certified by the
Marine Stewardship Council
, which ensures that it has been sustainably caught from traceable fisheries with high standards of fishing practices.
Buying MSC-certified products minimises your environmental impact and contributes to the health of the world's oceans.
What are the feeding guidelines?
The cod granola is suitable for dogs of all sizes from 6 weeks old (that's right, puppies too) and should be consumed as part of a balanced diet.
Ready to find out more?
Well, what are you waiting for? Take a look for yourself and make the most of our free UK-wide delivery to get them wagging!