Tasty treats from Woofs that will help keep your dog in shape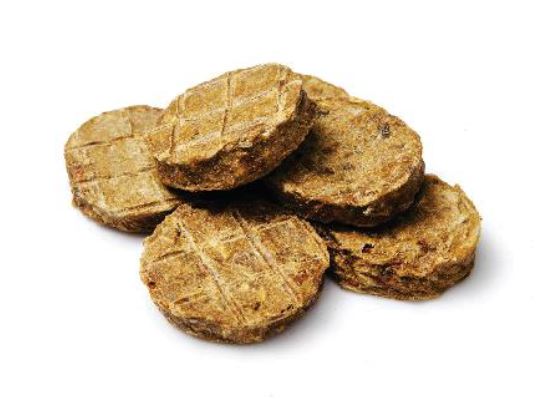 There is nothing wrong with giving your dog the occasional treat and when it comes to training, dog treats can be useful tools to help develop good behaviour in dogs. Research in the pet insurance market however has revealed that there are far higher calories in some dog treats than in a Big Mac which is leading to an obesity epidemic in cats and dogs.

The calorie and fat content is often not clearly labelled on packaging making it impossible for dog owners to choose natural and healthy treats. When it comes to fish-based treats, the labelling is also ambiguous. Quite often the fish content is referred to as white fish instead of being species specific and it is not always obvious to see where the fish has been caught. This could have consequences for the health of your dog if the fish has not come from safe, highly monitored marine environments.

It is important to reward your dog with 100% natural treats. Ones which are air-dried rather than cooked are lower in fat and calories. It is also better to choose treats

which are made from quality ingredients and come from sources which are fully traceable.

Woofs is an exciting new range of veterinary approved dog treats which are made from the finest wild cod fished from the North Atlantic Sea. Caught by Norwegian trawler men, the fish are landed and then turned in to tasty treats which are not only delicious but also have many health benefits for dogs. All of the cod treats are made at the Woofs' manufacturing plant in Cornwall.

Woofs is one of the only few UK pet food companies to hold the Marine Stewardship Council (MSC) certificate which means that all the fish that goes into the manufacture of the treats is from fully traceable and sustainable sources and that the Woofs' fishery has been independently assessed on its specific impacts to wild fish populations and the ecosystems surrounding the areas where the fish are caught.

The Cod Fingers and Cod Cubes and are made from 100% cod skins. The Cod Cookies are made from 85 % cod fish and 20% potato. The Woofs Dried Sprats are made from 100% sprats caught from the Baltic Sea which have been air dried. All the treats are packed full of Omega 3, an essential fatty acid that must be supplied in the diet because it cannot be created by the body. These tasty treats also help support healthy vision, joint mobility and can help heal sore, flaky, damaged or itchy skin. The rough texture of the fish skin is also great for reducing tartar and plaque build-up for healthier teeth, gums and a fresher breath. Fish is a great, easily digestible protein source for dogs and is ideal as a snack for overweight dogs who are trying to lose weight or dogs with allergies or intolerances. It also makes a great dog training treat so ideal for use in the show or agility ring and can also be used to train gun and working dog breeds.

Shop now.