Six fun ways to name your dog and what to avoid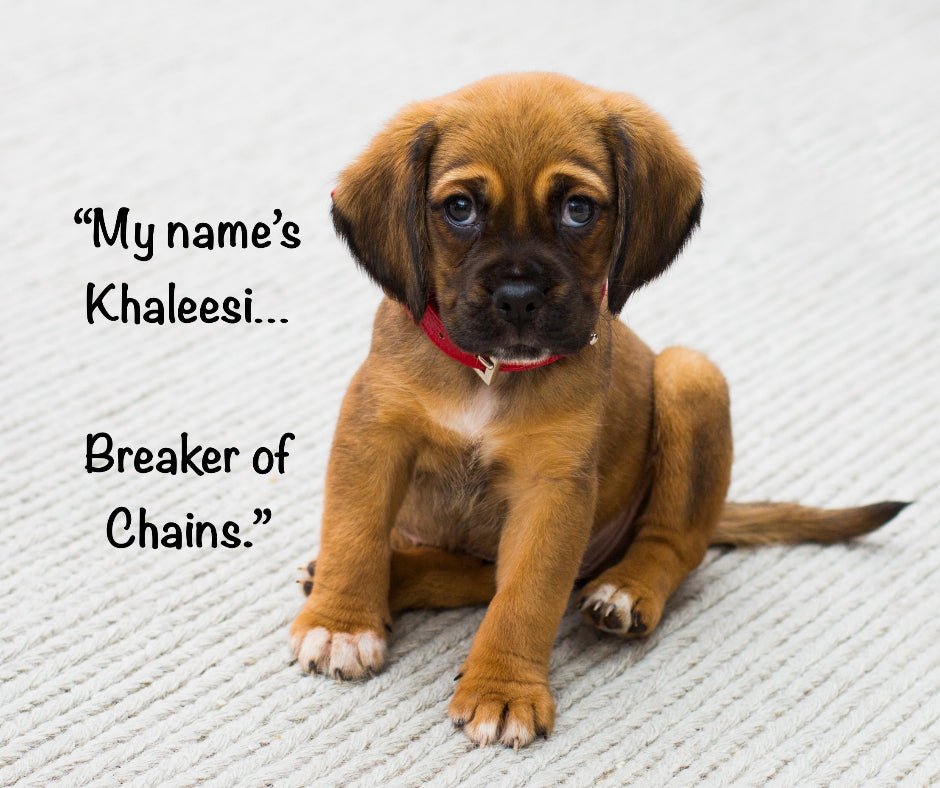 When it comes to knowing what to call our four-legged friends, we sometimes require a little bit of inspiration.
Here are six ideas to help you along the way:
1.

AFTER A SPORTING ICON
Rooney? Ennis? Roger? Wiggins? Whoever your favourite sports stars are, there are sure to be one or two who can make the grade. 
However, for those who idolise Luis Suarez for his undoubted footballing abilities, we might advise looking at other options. That is unless you don't mind people wrongly presuming the behavioural traits of your otherwise-harmless pup.
The same could be said for 'Tyson'…but it will always be an awesome name for a Boxer!
2.

GOING AGAINST THE NORM(AN)
Let's face it, some human names are on the way out (and rightfully so). For example, when was the last time you met a baby 'Lancelot'?
But it doesn't mean that your pesky pooch can't pull off that or a Wilmot, Avis, Griffin, Bertie or Olive. Just think about the names of your great great great grandparents and you'll soon find one.
3.

FROM THE BIG SCREEN TO THE DOG HOUSE
TV stars and their characters have often been the source of inspiration for many a great pet name.
Can you really go wrong with a Rocky, Harry (Potter), Frodo, Simba, Jolie, Katniss or (Princess) Leia? Game of Thrones should also give you another 200+ ideas to choose from.
Or Dora 'The Explorer' for the kids...
4.

THERE'S NOTHING WRONG WITH A BIT OF IRONY
'Titan' for your Chihuahua.
'Flash' for your English Bulldog.
'Swede' for your Great Dane.
'Sloth' for the ever-energetic Labradoodle.
Some dog owners have gone as far as calling their dog "Cat"…
5.

FOOD GLORIOUS FOOD
We love it. Our dogs love it. So why not use it to our advantage?
'KRISPY' = Rice Krispies
'REESE' = Reese's Peanut Butter Cups 
'CHEDDAR' = Cheddar...
The Woofs team live in hope of one day finding an 'Omega 3' or 'Cod' running around the local park...
Some brave souls take on two pups at once. Trying to keep up with them both should keep you occupied enough, so the last thing you need to worry about is coming up with TWO names. Perhaps you should—have a break—to come up with them? Have a 'Kit' and a 'Kat'.
6.

THE DOG, THE MYTH, THE LEGEND
From Pandora and Hercules to Zeus and Perseus, you should be able to find a mythological character on this list who takes your fancy.
Perhaps a Norse goddess in 'Hela'?
WHAT TO

AVOID
Double-barrelled names or names with too many syllables.





Names inspired by someone or something you don't like.





The last thing you need is a regular reminder of anything that gets you down, literally staring you in the face.





Names similar to those of family members.





You don't want to risk calling any of your loved ones down for dinner, only to find your hound wagging away in hope of more than just an empty bowl.
We hope that this article has helped to inspire some you to be creative with your new best friend's name!
And if you haven't already, don't forget to join our mailing list for more content like this! You'll get 15% off your first order and FREE delivery of your dog's favourite fish treats.